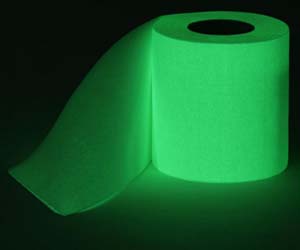 Secure yourself against power failure when you are on the toilet in the middle of the night with this awesome toilet paper that's glowing in the dark!
This toilet paper is perfect for Halloween or to freak out your guests. Wait until one of them goes to the toilet, switch of the light and they WILL be amazed by the glow! Or maybe it will scare the sh*t out of them?
It's also very fascinating to watch for the person who uses the toilet after you when you have forgot to flush!
We go around the web looking for new cool geeky items to surprise you. Today we've found Glow in the Dark Toilet Paper and we think it's awesome. So go ahead and check it out, and leave your comments and share it with your friends on Facebook, Twitter, Pinterest or Google+. If you do get this geeky gadget for yourself or as a present for someone else, tell us how you liked it, that would be awesome! :)
Categories: $1 to $25, All, All Prices, Other, Popular Product