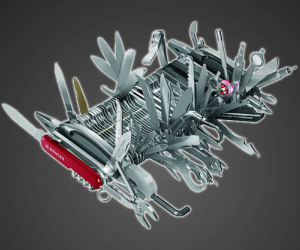 Let's face it, gadgets make the world go round. Everyone loves to think they have a took for anything that could possible come their way. If you are one of these people, you need a giant swiss army knife.
You will never be caught off-guard again; it will be the possession you carry with you everywhere. If you are not this kind of person, but know one, you now know the perfect gift for him or her this year.
You may be surprised to know that there is a giant swiss army knife that is capable of performing more than 140 different tasks. It would be hard to come up with something this little baby cannot do. There are 87 different tools in this knife. This is for more than your average boy scout.
Imagine never having to hunt through your toolbox for the right screwdriver again. There is also a bunch of different style blades for cutting things. If you are out in the woods alone, you will have not trouble taking care of yourself with this giant swiss army knife in your back pack. You will not have to worry about getting lost either because there is a working compass included among the tools. If you are out at night, no worries, there is a flashlight to help you find your way.
You will like to use the giant swiss army knife so much, you will go out of your way to find projects that need done. You will get any "honey do" list done before more can be added to the bottom. After all your chores are complete, sit back, peel and core an apple and enjoy the fact that you can pick any pieces out of your teeth with the included toothpick. Clean your nails leisurely and take a break. If the break is too long, go find something to do with your knife, You know you want to try out each and every tool.
This tool took a lot of people having a lot of input into what they find the most useful. Hikers, campers, carpenters, and fishermen are all overjoyed at the number of things they can get done by using just a giant swiss army knife. Your father probably had an older version of this knife, but it could not do half the things this one does. Get him one for his birthday and you are sure to be better considered in his will. Of course, as long as you get the knife, who cares about anything else.
We go around the web looking for new cool geeky items to surprise you. Today we've found Giant Swiss Army Knife and we think it's awesome. So go ahead and check it out, and leave your comments and share it with your friends on Facebook, Twitter, Pinterest or Google+. If you do get this geeky gadget for yourself or as a present for someone else, tell us how you liked it, that would be awesome! :)
Categories: $500 & Above, All, All Prices, For Him, Knives, Tools & Survival