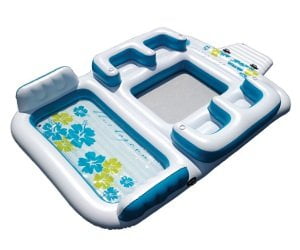 Do you want your own island? How about an inflatable one? This giant floating island is sure to make a family vacation or a party with your friends a blast in any setting with water.
The inflatable island fits 6 persons, has 4 cup holders, 2 coolers, a boarding platform and a built in wading pool. It's big enough to accommodate a small party on its own. Inflated it sizes at 188"x112"x26". The bottom of the seats has a mesh that lets the water in and cools the seat off in the heat so you don't have to worry about being in the sun to long.
Tie it to a buoy and ride waves for hours, take it to the river for a sail, or use it to chill in a pool. Whatever you use it for fun is guaranteed.
We go around the web looking for new cool geeky items to surprise you. Today we've found Giant Inflatable Floating Island and we think it's awesome. So go ahead and check it out, and leave your comments and share it with your friends on Facebook, Twitter, Pinterest or Google+. If you do get this geeky gadget for yourself or as a present for someone else, tell us how you liked it, that would be awesome! :)
Categories: $200 to $500, All, All Prices, For The Home/Family, Toys & Fun