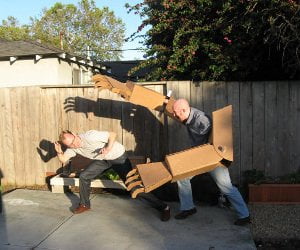 Who doesn't want to have giant robot hands? Imagine the epic high fives you'd give with them. Create your own awesome giant robot cardboard arms with this glue-it-yourself kit for your little child within.
The kit includes everything you need to make giant robot arms which you can then customize, paint, put stickers on them, glue stuff on them or even add lights - the possibilities are limitless. The project like this will take you about 5 hours.
The arms are approximately 5' 6'' in length and 9''x9'' in width. They allow 90° motion at the elbows and 360° motion at the wrist. The finished arms can be disassembled and fit in a 30x18x6 box. These arms are great fun for adults though might not be good for kids with arms shorter than 22''.
Get another pair of arms and imagine the robot fights you can have with your buddies! Also great for scaring small children (and adults for that matter).
High five!
We go around the web looking for new cool geeky items to surprise you. Today we've found Giant Arm Making Kit and we think it's awesome. So go ahead and check it out, and leave your comments and share it with your friends on Facebook, Twitter, Pinterest or Google+. If you do get this geeky gadget for yourself or as a present for someone else, tell us how you liked it, that would be awesome! :)
Categories: $25 to $50, All, All Prices, For Him, For The Home/Family, Toys & Fun