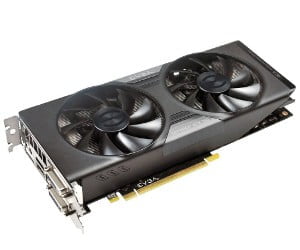 A great gaming PC needs a great graphics card and we're all about being great and awesome. If you want to max out graphics quality of any modern PC game you need at least one of these babies.
GeForce GTX760 is a high end graphics card from nVidia with 2GB DDR5 memory (6008 MHz) and 1072 MHz base clock (clocked at 1137 MHz). Obviously it's in a higher price range but you get what you paid for.
The card is equipped with high quality cooling system including two fans which ensures maximum heath reduction.
It's the weapon of choice for hardcore PC gamers.
We go around the web looking for new cool geeky items to surprise you. Today we've found GeForce GTX760 and we think it's awesome. So go ahead and check it out, and leave your comments and share it with your friends on Facebook, Twitter, Pinterest or Google+. If you do get this geeky gadget for yourself or as a present for someone else, tell us how you liked it, that would be awesome! :)
Categories: $200 to $500, All, All Prices, For Him, Tech