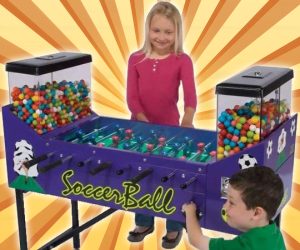 If you or your kids love Foosball and gumballs you can now meld your or your kids two passions into one with this brilliant Foosball Gumball Table! It will provide hours with teeth rotting fun for the whole family!
While you play with small plastic balls that you can't eat on regular Foosball tables, you play with sweet and teeth rotting gumballs on this brilliant Foosball Gumball Table. The table has two large gumball jars at both sides and each jar can hold up to thousands of tasty gumballs!
When you or your team play against your opponents and make a goal, the gumball that made the goal will drop down and can either be chewed by you, one of your teammates or by one of the opponents. Can Foosball actually get any funnier than that? And if it's made by evil dentists or by candy-loving Foosball fans, we don't know. But either way it's without a doubt the best reward/punishment system ever made!
It's a fun investment for the whole family. But don't play it too often because then the household's dental expenses can be very high.
We go around the web looking for new cool geeky items to surprise you. Today we've found Foosball Gumball Table and we think it's awesome. So go ahead and check it out, and leave your comments and share it with your friends on Facebook, Twitter, Pinterest or Google+. If you do get this geeky gadget for yourself or as a present for someone else, tell us how you liked it, that would be awesome! :)
Categories: $500 & Above, All, All Prices, For The Youngster, Toys & Fun