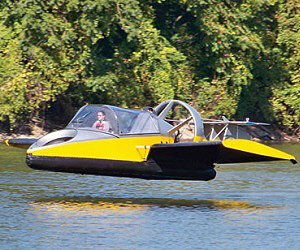 Not sure if you want to fly and take some aerial photographs, take a fishing trip on the lake, or if you just simply want to hover in your own backyard? Then there's only one solution – The Flying Hovercraft!
This hovercraft can glide over water and land as any regular hovercraft, but unlike all other hovercrafts out there, this one has one ability that no other hovercrafts has - it can fly like an airplain in the air up to 70 miles per hour thanks to its integrated wings! It's the perfect toy to take for a ride if you're not sure if you want to fly among the birds in the sky and take some photos, fish some dinner or hover around in town just to see people's reaction. Whatever you choose, we guarantee you that it will be a memorable experience.
The Flying Hovercraft is powered by a 130 horsepower turbocharged and fuel-injected liquid-cooled gasoline engine and it can hover over any surface such as sand, salt water, fresh water, tarmac, gravel, grass, snow, etc.
We go around the web looking for new cool geeky items to surprise you. Today we've found Flying Hovercraft and we think it's awesome. So go ahead and check it out, and leave your comments and share it with your friends on Facebook, Twitter, Pinterest or Google+. If you do get this geeky gadget for yourself or as a present for someone else, tell us how you liked it, that would be awesome! :)
Categories: $500 & Above, All, All Prices, Popular Product, Toys & Fun
Comments