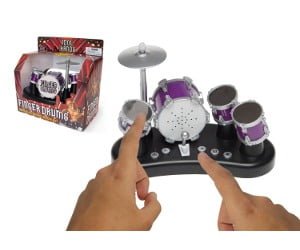 For the aspiring drummer in you, we present a miniature drum kit. A set of little drums you can play with your fingers at your desk. Not only it's great fun but also a good workout for your fingers at the same time.
This little drum kit includes bass drum kick and cymbal and it has a record mode as well as freestyle mode. You can play drums and record your tunes. It's great fun for the whole family and can be played by adults or children.
Keep it on your desk for occasional distraction, give it away for the kids to play, or make a gift for anyone who likes drums. It's a great little toy for children and adults to play with casually.
We go around the web looking for new cool geeky items to surprise you. Today we've found Finger Drum Kit and we think it's awesome. So go ahead and check it out, and leave your comments and share it with your friends on Facebook, Twitter, Pinterest or Google+. If you do get this geeky gadget for yourself or as a present for someone else, tell us how you liked it, that would be awesome! :)
Categories: $1 to $25, All, All Prices, For Him, For The Youngster, Toys & Fun