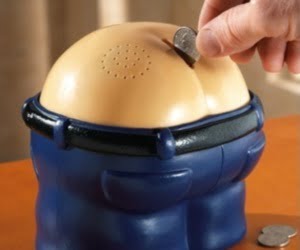 Is it hard to save money? If it is, this awesome farting money box will make you into a super-saver because the Farting Money Box is ridiculous hilarious!
Drop your coins in the ass crack and you will hear a fart in digital audio each time. It's so loud and disgusting that you can't refrain yourself from dropping coins in it!
This awesome farting money box is both fun and practical at the same time (strange huh?).
And don't worry, you don't need to smash the money box when you need the money. You can easily open the Farting Money Box and access your money by sliding off the top of the money box.
This can also be a fun gag gift for your kids to show them that saving money can actually be fun.
Saving money has never been more fun than this!
We go around the web looking for new cool geeky items to surprise you. Today we've found Farting Money Box and we think it's awesome. So go ahead and check it out, and leave your comments and share it with your friends on Facebook, Twitter, Pinterest or Google+. If you do get this geeky gadget for yourself or as a present for someone else, tell us how you liked it, that would be awesome! :)
Categories: $1 to $25, All, All Prices, For The Youngster, Toys & Fun