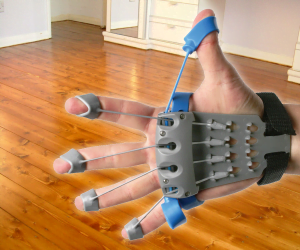 This brilliant invention, which has won the Medical Design Excellence Award, strengthens the muscles in your fapping hand to prevent injuries as Tennis Elbow and Carpal Tunnel Syndrome due to over-fapping.
It's well known that the hot chicks rather prefers tall and handsome football players instead of nerdy computer geeks. We don't have a lot in common with these football players. They are good at tackling opponents on the football field and to charm the team's cheerleaders, while we are good at doing our homework to get top grades and to crush virtual opponents on a screen. But one thing we have in common with these chick magnets and all the other guys in the world is that we have a strong libido. And like all other men, the geek must unleash his microscopic white swimmers which carries his genes at least once a day, if not 2, 3, 4 or 5 times a day to reduce his libido so he can go back to his homework or his gameplay. But unlike these handsome and masculine football players who can cover their needs with the help of hot chicks from the local cheerleader team, the geek have to settle with his own hand and fap (at least until he is 30 years old and have a high paid job). And this is an activity that can cause serious injuries to both his fapping hand and arm over time. Some of the painful injuries that one can get due to over-fapping is Carpal Tunnel Syndrome, Tennis Elbow, and Tendonitis. But now there is a solution for this problem. Let us introduce the award-winning Hand Fitness Trainer! (Or as we like to call it - "The Fapping Hand Trainer")
With this brilliant and ingenious invention you can strengthen you fapping hand's muscles to prevent these painful injuries that you can get from over-fapping by exercising your hand with resistance as you open and flex your hand. It's an absolute must-have for lonely guys with no women in their lives who wants to take care of one of their most important and helpful body parts!
We go around the web looking for new cool geeky items to surprise you. Today we've found Fapping Hand Trainer and we think it's awesome. So go ahead and check it out, and leave your comments and share it with your friends on Facebook, Twitter, Pinterest or Google+. If you do get this geeky gadget for yourself or as a present for someone else, tell us how you liked it, that would be awesome! :)
Categories: $25 to $50, All, All Prices, For Him, Other