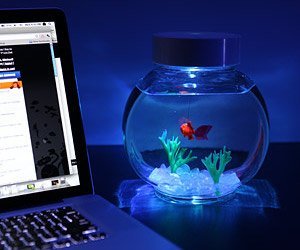 Forgot to feed your goldfish again and it died? It's a pity but perhaps you want a superior goldfish this time? A goldfish that doesn't eat but still provide the joy that these little fishies do.
An electronic goldfish in a bowl is just like a real goldfish except the only food it needs are 3 AA batteries. And when the batteries run out, you can simply replace them for your little friend to look alive again. No more toilet funeral, he will love you forever.
The goldfish swims around its bowl like a real fish and has three different modes of activity. The bowl comes with base decoration and lighting, all you need to add is water. Setting it up is easy, just add the batteries into the top lid, fill the bowl with water and put the lid back on.
Check the little fella out in action:
We go around the web looking for new cool geeky items to surprise you. Today we've found Electronic Goldfish and we think it's awesome. So go ahead and check it out, and leave your comments and share it with your friends on Facebook, Twitter, Pinterest or Google+. If you do get this geeky gadget for yourself or as a present for someone else, tell us how you liked it, that would be awesome! :)
Categories: $1 to $25, All, All Prices, For The Home/Family, For The Youngster, Toys & Fun