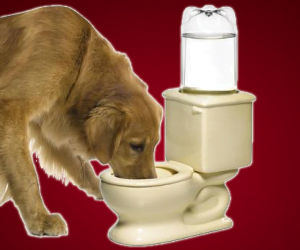 It's well known that dogs rather prefer to drink from a toilet bowl than from a clean water bowl. So why not surprise your best friend with a toilet water bowl?
Man's best friend are really strange creatures. No matter if you give your dog a sterilized bowl of the purest water, he will rather prefer to drink from the nasty toilet bowl in your bathroom. This is something all of us who have dogs can confirm.
But if you don't want to see your dog nose deep drinking from the toilet bowl in your bathroom, you can give him this hilarious & awesome Toilet Water Bowl! It's basically a water bowl that looks just like a miniature toilet. Your dog will have no problems with drinking from a clean bowl when it looks just like a real toilet - because he will think it's real!
The bowl is made of high gloss ceramic and you can fill any 2 liter bottle with water and dock it to the bowl. The gravity will then pull as much fresh water into the bowl as needed.
We go around the web looking for new cool geeky items to surprise you. Today we've found Dog Toilet Bowl and we think it's awesome. So go ahead and check it out, and leave your comments and share it with your friends on Facebook, Twitter, Pinterest or Google+. If you do get this geeky gadget for yourself or as a present for someone else, tell us how you liked it, that would be awesome! :)
Categories: $25 to $50, All, All Prices, For The Pet, Other, Popular Product