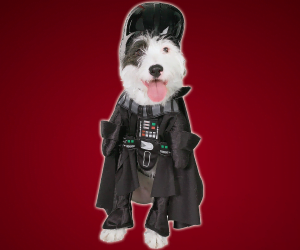 "You don't know the poooooowa of the dog side". Dress yourself as Luke Skywalker and your dog as the powerful Sith Lord Darth Vader and fight intergalactic battles in your living room!
Do you like to dress yourself as a Jedi or a Sith Lord and fight intergalactic battles in your apartment? If it gets too lonely to play Luke Skywalker without having a Sith Lord to fight against, you can dress up your dog as Darth Vader with this awesome Darth Vader dog costume so you have a real opponent!
This Star Wars pet costume features a headpiece decorated as Darth Vader's helmet, a decorated jumpsuit with arms, a cape and a belt. Everything your beloved dog needs in order to spread the power of the dark side in your apartment.
We go around the web looking for new cool geeky items to surprise you. Today we've found Darth Vader Dog Costume and we think it's awesome. So go ahead and check it out, and leave your comments and share it with your friends on Facebook, Twitter, Pinterest or Google+. If you do get this geeky gadget for yourself or as a present for someone else, tell us how you liked it, that would be awesome! :)
Categories: $1 to $25, All, All Prices, For The Pet, Wearables