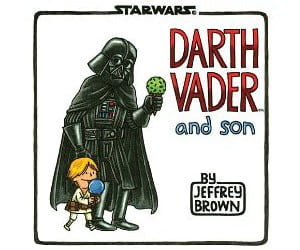 What if Darth Vader raised Luke? In this lovely comic book you can follow this what-if story as Darth Vader teaches his son to open a cookie jar using the force, wield a light saber and more.
Jeffrey Brown re-imagines the Star Wars story in a different way and shows us the challenges of parenting through the lens of galaxy far, far away. In this version of the story Darth Vader doesn't seem as menacing and is rather charming as he teaches Luke life lessons.
The story is hilarious and charming, the illustrations are lovely. This book is a must to have for Star Wars fans and even if you're not one you will find this book lovely. Not to mention it makes a great gift.
Do yourself a favor and get this book, let the hilarity ensue.
We go around the web looking for new cool geeky items to surprise you. Today we've found Darth Vader and Son Comic Book and we think it's awesome. So go ahead and check it out, and leave your comments and share it with your friends on Facebook, Twitter, Pinterest or Google+. If you do get this geeky gadget for yourself or as a present for someone else, tell us how you liked it, that would be awesome! :)
Categories: $1 to $25, All, All Prices, For The Youngster, Other