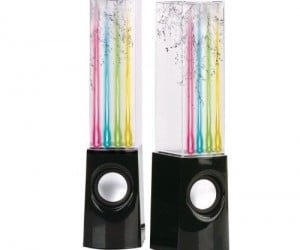 Unique multi-colored dancing water speakers is an awesome way to visualize the dance beats on your desktop. The dancing colored water jets are sure to attract everyone's attention.
No extra setup is necessary for these speakers just plug and watch the water jets dance to the music. The multi-color LED lights light up the water and make a cool visual effect.
Granted the speakers themselves aren't exactly top notch and there's no sub woofer but they do produce decent sound quality for desktop speakers. It's an inexpensive little gadget to spice up your music quickly.
We go around the web looking for new cool geeky items to surprise you. Today we've found Dancing Water Speakers and we think it's awesome. So go ahead and check it out, and leave your comments and share it with your friends on Facebook, Twitter, Pinterest or Google+. If you do get this geeky gadget for yourself or as a present for someone else, tell us how you liked it, that would be awesome! :)
Categories: $1 to $25, All, All Prices, Tech