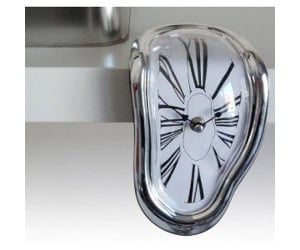 This clock is a piece of art inspired by Dali's melting clocks. For the art geeks it's an awesome piece to have as part of your home decor and it's a great conversation starter.
The silver colored clock is about 6 inches tall and can be placed on a shelf or a mantle. It doesn't require mounting hardware and can simply be placed where you want. It will melt the time away there and then.
If you want to add a modernistic touch to your home decor this item will fit in perfectly. And if you're really lucky it will warp the time and make it go slower (or faster if you prefer) at your home.
We go around the web looking for new cool geeky items to surprise you. Today we've found Dali's Melting Clock and we think it's awesome. So go ahead and check it out, and leave your comments and share it with your friends on Facebook, Twitter, Pinterest or Google+. If you do get this geeky gadget for yourself or as a present for someone else, tell us how you liked it, that would be awesome! :)
Categories: $1 to $25, All, All Prices, For Her, For Him, For The Home/Family, Home & Kitchen