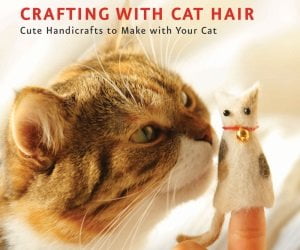 If you are a cat owner, you will love this book! But we doubt that your furry little friend is as enthusiastic about it as you are when you start to craft picture frames of his fur.
With these days focus on recycling and reuse, what could possibly be better than to reuse your cat's shedding fur and hairballs to create something soft, eco-friendly and useful for you, your cat or the home?
With the book "Crafting with Cat Hair: Cute Handicrafts to Make with Your Cat", we are pretty sure that you'll be able to craft a lot of funny things from your pet's fur such as gloves, purses, hats, finger figures, etc. And many of these things are so easy to make that you don't need any special equipment or training at all. Just follow the easy-to-follow steps in the book, and you'll be crafitng, for example, your first eco-friendly cat hair purse within an hour. But please, if you run out of cat hair, don't shave your cat. Ask your neighbor instead if he has some cat hair laying around that you might can use for your cute and adorable handicrafts.
We go around the web looking for new cool geeky items to surprise you. Today we've found Crafting With Cat Hair and we think it's awesome. So go ahead and check it out, and leave your comments and share it with your friends on Facebook, Twitter, Pinterest or Google+. If you do get this geeky gadget for yourself or as a present for someone else, tell us how you liked it, that would be awesome! :)
Categories: $1 to $25, All, All Prices, For Her, Other