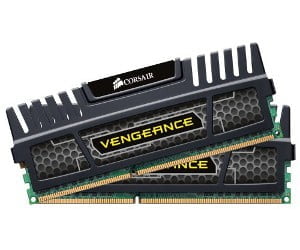 PC gaming requires lots of computing power and the memory is one of the most taxed components when you boot up that BF3 at maxed out graphics. Introducing the Corsair Vengeance 16GB memory modules for your gaming rig.
The Corsair Vengeance 16GB (2x8GB) Desktop computer memory modules are specifically designed for people building a PC or for PC owners seeking to overclock their existing machines. For nearly 20 years, Corsair has provided high quality products to improve the performance of PCs and the Vengeance 16 GB modules are no exception. These DIMMS were built from RAM with high-speed potential. Heat is dissipated evenly by the aluminum heat spreaders and their attractive design are a nice bonus to appeal to your aesthetic side.
Functionality meets practicality with these modules which are ideal for speeding up a gaming rig or just an older PC which doesn't perform well in today's high speed Internet. People have reported hitting 1600 speed after installing these impressive modules and they should allow you to hit the higher levels on the Windows scores. Keep in mind, these modules are made for desktops and not laptops but they work like a charm with any compatible hardware. You may have to update to the latest version of BIOS to achieve maximum results but it'll be well worth it for the increased speed.
Remember Corsair has been in business since 1994 so you know you can trust this brand. Their products are typically the highest rated among similar products and people rave about the boost in performance they can provide. If overclocking is truly your goal, make the Corsair Vengeance 16 GB Desktop Memory Modules the first upgrade you look for to achieve maximum results.
We go around the web looking for new cool geeky items to surprise you. Today we've found Corsair Vengeance 16GB Memory and we think it's awesome. So go ahead and check it out, and leave your comments and share it with your friends on Facebook, Twitter, Pinterest or Google+. If you do get this geeky gadget for yourself or as a present for someone else, tell us how you liked it, that would be awesome! :)
Categories: $100 to $200, All, All Prices, Tech