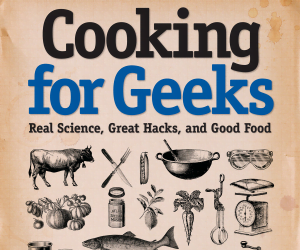 Oh yeah! You can now cook geeky foods based on awesome recipes, real food science and great bacon hacks created by geeks for geeks!
This cookbook is not like the other cookbooks out there. Besides giving you awesome recipes, you will also learn the science behind what's happening with the food when you cook it and you will also learn what makes the recipes work so you can improvise and create you own unique and geeky dishes!
This is pure science (and fun!) for the food geek! Why are steaks and bacon so popular and what makes it so tasty? Why do we bake some foods at 390°F/200°C and other foods at 350°F/180°C? 'Cooking for Geeks' has all the answers that you have been searching for all these years and the little extra.
You will even learn the reactions in the cooking such as caramelization and how these reactions impact the food, learn how to calibrate your kitchen machines and tools, read fascinating interviews with Adam Savage, food scientists and many more!
We go around the web looking for new cool geeky items to surprise you. Today we've found Cooking for Geeks and we think it's awesome. So go ahead and check it out, and leave your comments and share it with your friends on Facebook, Twitter, Pinterest or Google+. If you do get this geeky gadget for yourself or as a present for someone else, tell us how you liked it, that would be awesome! :)
Categories: $1 to $25, All, All Prices, Food & Drinks, Other