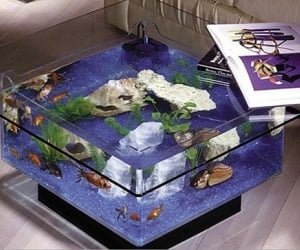 This awesome coffee table aquarium is really SUPER AWESOME and create a relaxing atmosphere when you're taking a cup of coffee with your geeky friends!
Meld your twin love for coffee tables and fish with this coffee table aquarium! It holds 25 gallon of water and is shaped to fit with your interiour. The solid 36 square glass top makes it into a nice coffee table which will give you years of enjoyment.
The Coffee Table Aquarium comes with a two-stage submersible filter pump, lighiting, decorative plants, estension cord, gravel and a easy-to-follow step-by-step instruction manual.
You'll fit a lot of fish in this one and both you and your pet will LOVE it!
We go around the web looking for new cool geeky items to surprise you. Today we've found Coffee Table Aquarium and we think it's awesome. So go ahead and check it out, and leave your comments and share it with your friends on Facebook, Twitter, Pinterest or Google+. If you do get this geeky gadget for yourself or as a present for someone else, tell us how you liked it, that would be awesome! :)
Categories: $500 & Above, All, All Prices, Home & Kitchen