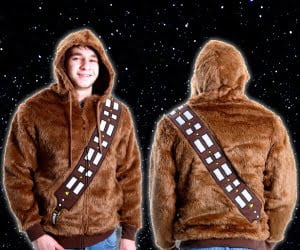 This hoodie turns you into the furry intergalactic hero you've always wanted to be. You might not be 7'3″ tall when you wear this hoodie, but you'll be the closest thing to a Wookiee than you'll ever be.
Admit it. Ever since you saw Chewbacca for the first time in Star Wars Episode IV: A New Hope, you've always wanted to be a tall, furry and strong Wookiee who fights for peace in the galaxy for the Rebel Alliance. But now you can do like many other Star Wars geeks and get a Chewbacca hoddie so you can fulfill at least one of your dreams - to be furry and cool as a Wookiee!
This epic outfit is perfect if you want to keep warm when you're traveling to cold, remote areas in space as a co-pilot on the Millennium Falcon, or you can simply just wear it when you are heading to the grocery store to buy food. Whatever occasion you decide to wear it to, you'll be the universe's toughest!
We go around the web looking for new cool geeky items to surprise you. Today we've found Chewbacca Hoodie and we think it's awesome. So go ahead and check it out, and leave your comments and share it with your friends on Facebook, Twitter, Pinterest or Google+. If you do get this geeky gadget for yourself or as a present for someone else, tell us how you liked it, that would be awesome! :)
Categories: $50 to $100, All, All Prices, For Him, Wearables