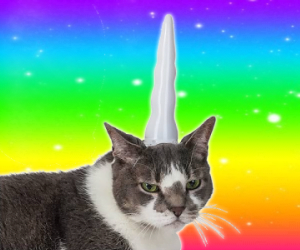 You may think "WTF is this?!", but it's not as stupid as you may think it is. The Cat Unicorn Horn is actually a pretty useful and funny toy for both you and your cat.
Your beloved pet will most likely turn into a complete jerk and starts to poke everything he sees when you attach this awesome unicorn horn to his head. Not because the horn is bothersome for your cat, but because he will think he is a magical medieval unicorn on a quest and takes the unicorn mythology role serious.
Give the unicorn horn to your cat as a gift and both your and your cat's dreams will come true - Watch as your unicorn cat run and fart rainbows on his quest to catch the evil mouse with the horn. You can't get any bettet entertainment than watching your cat having a fun time by playing unicorn, can you?
The 5-1/2" (14 cm) long unicorn horn is made of vinyl and has a four-point elastic strap system that holds it comfortably on your cat's head. Why settle for a regular cat, when you could have an awesome unicorn cat?
We go around the web looking for new cool geeky items to surprise you. Today we've found Cat Unicorn Horn and we think it's awesome. So go ahead and check it out, and leave your comments and share it with your friends on Facebook, Twitter, Pinterest or Google+. If you do get this geeky gadget for yourself or as a present for someone else, tell us how you liked it, that would be awesome! :)
Categories: $1 to $25, All, All Prices, For The Pet, Popular Product, Toys & Fun