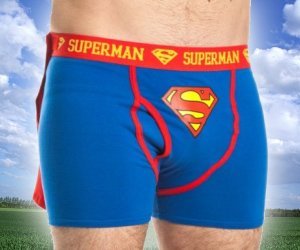 Look! It's a bird, it's a plane, no it's your crotch! These underpants are for real hardcore Superman fans and they have the characteristic S-logo on the front and a red Superman cape on the back.
With a pair of these boxer briefs, you can finally keep your genitals anonymous at the same time as they receive extensive press coverage for all the good deeds they have done.
These blue Superman boxer briefs are fully equipped with the characteristic Superman S-logo on the front and around the waistband and comes with a red, detachable superhero cape on the back. But if the cape will make your butt fly, we don't know. But we know that it will lift when you fart.
We go around the web looking for new cool geeky items to surprise you. Today we've found Caped Superman Boxer Briefs and we think it's awesome. So go ahead and check it out, and leave your comments and share it with your friends on Facebook, Twitter, Pinterest or Google+. If you do get this geeky gadget for yourself or as a present for someone else, tell us how you liked it, that would be awesome! :)
Categories: $1 to $25, All, All Prices, For Him, Popular Product, Wearables