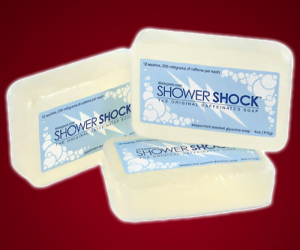 Want to feel extra quick and fresh after the morning shower? Then you should use caffeinated soap! No, it's not a joke! This awesome shower soap is caffeinated so it energize you when you're taking your wash!
Are you tired of waking up and having to wait for the coffee brewer to brew finish before you can get some caffeine in your veins? If you are, then this soap is perfect for you. Just wake up tired in the mornings, jump in the shower and soap in your body with the caffeinated soap and you will feel fresh and quick as never before!
This soap can also be the perfect gift to the sweaty gamer that need some motivation to take a shower or a bath.
Each bar of this soap contains approximately 12 servings/showers per 4 ounce bar with 200 milligrams of caffeine per serving which will be absorbed through your skin. Probably the easiest way for the busy geek to get some caffeine.
We go around the web looking for new cool geeky items to surprise you. Today we've found Caffeinated Soap and we think it's awesome. So go ahead and check it out, and leave your comments and share it with your friends on Facebook, Twitter, Pinterest or Google+. If you do get this geeky gadget for yourself or as a present for someone else, tell us how you liked it, that would be awesome! :)
Categories: $1 to $25, All, All Prices, Other