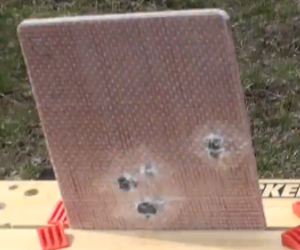 With the awesome and handy Bulletproof Clipboard you can protect yourself against hostile corporate takeovers. It's tested and are able to stop up to a 9mm bullet!
Imagine yourself this scenario: You are sitting at a Café and you have just completed your detailed plans for a new particle accelerator that you're going to build in your mom's basement. But when you walk out of the café, your evil rival & nemesis suddenly pops up and tries to steal the plans for the particle accelerator that is attached to your clipboard. But you make it a little difficult for him to steal the clipboard as you perform your ninja tricks that you've learned from a childhood with countless hours of 'Teenage Mutant Ninja Turtles'. Then your Arch Enemy realize that it's pointless to fight against you physical and pull up a gun and shoots at you, but the bullets don't hurt you and you don't move an inch because you use the clipboard as a shield and the clipboard is BULLETPROOF! Your nemesis will then be so scared and shocked that he runs away and think that you are immortal.
The scenario above can actually happen. You CAN be shot at by your nemesis as he tries to steal your clipboard and the Bulletproof Clipboard CAN save your life!
The heavy duty Bulletproof Clipboard is tested and are able to stop up to a 9mm bullet which also makes them handy for hostile corporate takeovers.
We go around the web looking for new cool geeky items to surprise you. Today we've found Bulletproof Clipboard and we think it's awesome. So go ahead and check it out, and leave your comments and share it with your friends on Facebook, Twitter, Pinterest or Google+. If you do get this geeky gadget for yourself or as a present for someone else, tell us how you liked it, that would be awesome! :)
Categories: $25 to $50, All, All Prices, Other