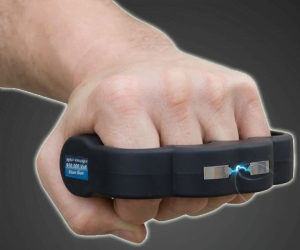 This awesome brass knuckle with taser is the "must have" self defense weapon for the jogging geek! Give the attacker a powerful "shock therapy" with its massive 950,000 volts!
The brass knuckle with taser has a unique design with comfortable grip coated with rubber which gives you full control over its awesome "shocking" power!
It also has security features such as a safety switch, a "ready to use" LED indicator and a button that's releasing its awesome powerful shock! So it's completely safe to use.
The brass knuckle with taser comes with a magnetic leather holster and two batteries.
The attacker will definitely leave you alone after you have gived him a "shock therapy" with this one!
We go around the web looking for new cool geeky items to surprise you. Today we've found Brass Knuckle With Taser and we think it's awesome. So go ahead and check it out, and leave your comments and share it with your friends on Facebook, Twitter, Pinterest or Google+. If you do get this geeky gadget for yourself or as a present for someone else, tell us how you liked it, that would be awesome! :)
Categories: $25 to $50, All, All Prices, Knives, Tools & Survival, Popular Product