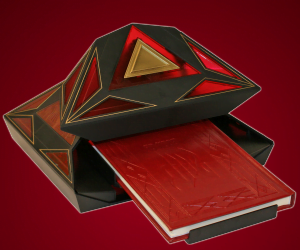 If you're seeking for a way to rule the galaxy, there are few ways that are more effective than learning & master the power of the Dark Side and become a Sith Lord.
The Siths have lurked around and waited to seize control over the galaxy for centuries. And now they have published the book 'Book of Sith: Secrets from the Dark Side' so you can join them and learn the dark secrets & mysteries behind the Dark Side and follow the same path as Darth Sidious & Darth Vader so you can become a true Sith Lord!
In the Book of Sith's 160 pages, you'll learn:
The Sith army's combat methods. - By Darth Malgus
Sith alchemy & how the Sith Order works. - By Sorzus Syn
The training required to become a Sith. - By Darth Bane
How to use the Dark Side as a intergalactic mercenarie. - By Mother Talzin
How to manipulate the Force. - By Darth Plagueis
How Darth Sidious manipulated the Senate and how he was able to establish his mighty Empire. - By Darth Sidious
And much more!
This awesome fully illustrated book comes with a motorized black-and-red pyramid-shaped Sith case to store the book in when you're not learning the Dark Side of the force. But it doesn't stop there! The 'Book of Sith' does also come with:
A Sith lightsaber crystal
A Nightsister talisman
A battle map from the Great Galactic War
A diagram that explains Palpatine's political strategies during the Clone Wars very detailed
A note from Luke Skywalker
A Galactic Empire propaganda poster
And a scrap of a Sith burial shroud
We go around the web looking for new cool geeky items to surprise you. Today we've found Book of Sith and we think it's awesome. So go ahead and check it out, and leave your comments and share it with your friends on Facebook, Twitter, Pinterest or Google+. If you do get this geeky gadget for yourself or as a present for someone else, tell us how you liked it, that would be awesome! :)
Categories: $50 to $100, All, All Prices, Other