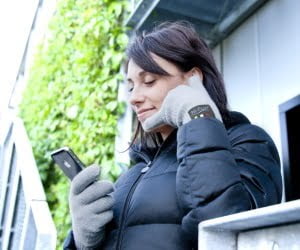 With these Bluetooth Handset Gloves with bluetooth handset built into the left glove you can hold your hand to your head and talk on the phone! People will start to wonder when they see you talking to your hand.
You probably understand what technology it is in these gloves by their name. And when the phone rings, simply hit "Answer" on the glove and then just talk to the person on the other end via a small speaker in the thumb and a microphone in the little finger! The only drawback (or maybe it's an advantage?) is that you'll look like a crazy person who's talking to his own hand. Sweet!
You can connect the gloves wirelessly to your phone via Bluetooth and they have about 12 meters operating range.
We go around the web looking for new cool geeky items to surprise you. Today we've found Bluetooth Handset Gloves and we think it's awesome. So go ahead and check it out, and leave your comments and share it with your friends on Facebook, Twitter, Pinterest or Google+. If you do get this geeky gadget for yourself or as a present for someone else, tell us how you liked it, that would be awesome! :)
Categories: $50 to $100, All, All Prices, Popular Product, Tech