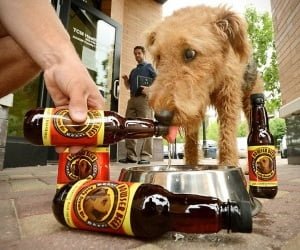 Why should man be the only one allowed to relax with a cold and refreshing beer on a hot sunny summer day? With this 6-pack of dog beer your best friend can take a beer and chill with you!
All pets like beer. Cats, horses and dogs, they do all have a strong passion for beer and especially man's best friend. In fact, most of the geeks and the other species on planet earth love beer just because it's so damn good and refreshing.
But don't set your loyal dog on the sideline so he feels lonely when you take a cold beer on a hot summer day because he deserves better. He is after all your best friend! Fill his drinking bowl with some cold and refreshing dog beers with the taste of beefy brown ale instead so also he finally becomes a beer consumer because the only thing that can quench your thirst and cool you down when it's hot is a cold beer! Something that also applies to dogs. He will without a doubt appreciate it very much and you will get a happy new drinking buddy to hang out with!
We go around the web looking for new cool geeky items to surprise you. Today we've found Beer For Dogs and we think it's awesome. So go ahead and check it out, and leave your comments and share it with your friends on Facebook, Twitter, Pinterest or Google+. If you do get this geeky gadget for yourself or as a present for someone else, tell us how you liked it, that would be awesome! :)
Categories: $1 to $25, All, All Prices, Food & Drinks, For The Pet, Popular Product