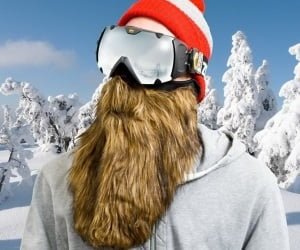 Beard and skis, skis and beard. Two things that hang intimately together. Just imagine when you come groaning out of the woods with icicles in your beard like a real viking! Is there anything cooler?
Beard can unfair. Half of all people can't grow beard because of their gender. And then it's those poor guys with bad genes that can't grow the slightest down to their chin. Then it's lucky that the Beardski Ski Mask exist. And even more lucky is that this awesome ski mask is specifically designed to protect your face against harsh wind and weather when you ski!
And fortunately, the beard is made ​​of waterproof fleece, and not made from the beard of an old uncle.
We go around the web looking for new cool geeky items to surprise you. Today we've found Beardski Ski Mask and we think it's awesome. So go ahead and check it out, and leave your comments and share it with your friends on Facebook, Twitter, Pinterest or Google+. If you do get this geeky gadget for yourself or as a present for someone else, tell us how you liked it, that would be awesome! :)
Categories: $25 to $50, All, All Prices, Popular Product, Wearables