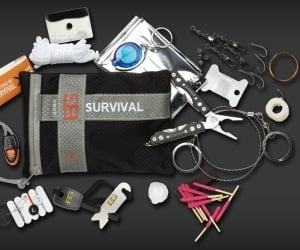 If you're a true geek, you must have the right survival tools & gear and the Bear Grylls Ultimate Survival Kit is no exception. This tiny kit contains everything you need in order to survive in a hostile environment.
Bear Grylls is the toughest survivalist of all time. He's known from the popular TV shows 'Man vs Wild' and 'Worst Case Scenario' where he has built up a legendary status among survivalists by sleeping in dead camels to keep warm, eat creepy bugs, crawl around in sticky and smelly mud and drink his own urine. And now he has released a series of survival equipment with features that can make the difference between life and death in the wilderness!
In the Bear Grylls Ultimate Survival Kit, Bear has chosen only the gems among survival gear for your comfort in the wilderness. In this awesome 15-piece survival kit you'll find a miniature multi-tool that has a wide range of applications, a survival blanket, snare wire, fishing kit, waterproof matches, fire starter, sewing kit, rescue instructions, a survival guide and much more!
We go around the web looking for new cool geeky items to surprise you. Today we've found Bear Grylls Ultimate Survival Kit and we think it's awesome. So go ahead and check it out, and leave your comments and share it with your friends on Facebook, Twitter, Pinterest or Google+. If you do get this geeky gadget for yourself or as a present for someone else, tell us how you liked it, that would be awesome! :)
Categories: $25 to $50, All, All Prices, Knives, Tools & Survival