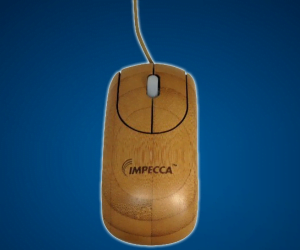 The demand for environmentally friendly electronics is increasing and we should all be environmentally conscious. So why not start with your PC and get a eco-friendly computer mouse made ​​of bamboo?
This revolutionary new eco-friendly computer mouse is hand-carved out of natural, biodegradable bamboo and is compatible with all Windows computers and MACs. Just connect the mouse to your computer via the USB port and it's ready for use. Give your computer a unique & trendy look and show your friends that you care about the environment!
It looks as cool as it is eco-friendly!
We go around the web looking for new cool geeky items to surprise you. Today we've found Bamboo Computer Mouse and we think it's awesome. So go ahead and check it out, and leave your comments and share it with your friends on Facebook, Twitter, Pinterest or Google+. If you do get this geeky gadget for yourself or as a present for someone else, tell us how you liked it, that would be awesome! :)
Categories: $1 to $25, All, All Prices, Tech