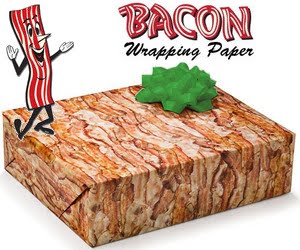 Wrap all the fun and cool gifts you have purchased through our site with this bacon wrapping paper. Whether you use the paper to wrap underpants, bacon or electronics, the recipient will get a big smile on his face.
This gift wrapping paper is a little out of the ordinary since it is covered with photos of greasy and delicious bacon strips. It looks so real that the recipient might try to eat it once he receive his gift, so you might want to tell him that it's just a paper, and not real bacon strips.
It's the perfect gag gift wrap for any item you buy through our site and it will definitely make a big smile on the recipent's face whether you've wrapped superman boxer briefs, toilet paper that glow in the dark or one quart of elephant dump. Because as with so many other things, it becomes so much better when it's covered by a layer of bacon!
You can't make the gag gift complete without this paper, period!
We go around the web looking for new cool geeky items to surprise you. Today we've found Bacon Wrapping Paper and we think it's awesome. So go ahead and check it out, and leave your comments and share it with your friends on Facebook, Twitter, Pinterest or Google+. If you do get this geeky gadget for yourself or as a present for someone else, tell us how you liked it, that would be awesome! :)
Categories: $1 to $25, All, All Prices, Other