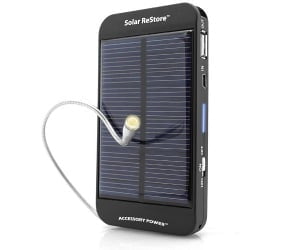 How many times have you been in a situation when you need to use your iPhone desperately just to see it's battery is empty? One too many, I guess. That's why you need a backup charger.
This charger will charge most electronic devices fully and it's especially useful on the road. One charge is rarely enough so this charger will give you one extra. Or you can use it to charge multiple devices just enough to use them again.
The charger's battery can be recharged via Solar (up to 50%), USB or AC power. So even if you're out in the middle of nowhere with your phone dead, you will still be charge it.
This is pretty much a must have but highly underused handy device. Don't be that guy and never be with empty battery again.
We go around the web looking for new cool geeky items to surprise you. Today we've found Backup Charger and we think it's awesome. So go ahead and check it out, and leave your comments and share it with your friends on Facebook, Twitter, Pinterest or Google+. If you do get this geeky gadget for yourself or as a present for someone else, tell us how you liked it, that would be awesome! :)
Categories: $25 to $50, All, All Prices, Knives, Tools & Survival, Tech