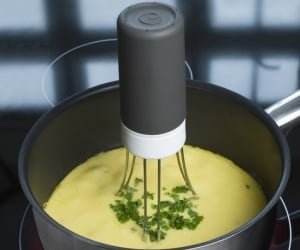 The Automatic Stirrer is a revolution for both your saucepan & the modern kitchen! Why stir the sauce by yourself when you can have an automatic robot that does it?
Whether you think it's completely boring and exhausting to cook or if you think it's more fun than a bucket of monkeys, there is one thing in cooking that doesn't make a person happy - to stir with a whisk so that things don't get burned. Whether you make your delicious sauce, fry onions, woks bamboo or whatever it may be, there's always something more sensible to do than to just stand there like an idiot and stir with a whisk. But relax, the Automatic Stirrer takes care of the matter!
Simply put the automatic stirrer in the saucepan, and it will stand there all by itself and stir in three different adjustable speeds. Nothing will get burned & you don't need to stress - just relax!
We go around the web looking for new cool geeky items to surprise you. Today we've found Automatic Stirrer and we think it's awesome. So go ahead and check it out, and leave your comments and share it with your friends on Facebook, Twitter, Pinterest or Google+. If you do get this geeky gadget for yourself or as a present for someone else, tell us how you liked it, that would be awesome! :)
Categories: $1 to $25, All, All Prices, Home & Kitchen