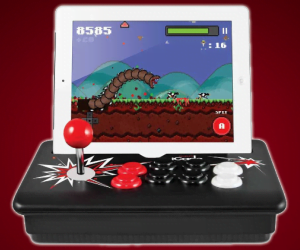 This awesome full-sized arcade controller bor both iPad and iPad 2 allow you to play classic arcade games like Astroids, Pac-Man, Battlezone, etc. A perfect hybrid of the classic and the modern!
It has a authentic arcade joystick and 8 arcade buttons that are ready for hours of sweaty non-stop arcade gaming. Just connect the iCade Core to your iPad via Bluetooth, launch a compatible game and have fun with its joystick and 8 arcade buttons!
The iCade Core is compatible with classic games like Pac-Man, Asteroids, Centipede, and Battlezone. And it's compatible with tons of modern games as well.
It has never been this fun to play your favorite classic games on your iPad before!
We go around the web looking for new cool geeky items to surprise you. Today we've found Arcade Game Controller for iPad and we think it's awesome. So go ahead and check it out, and leave your comments and share it with your friends on Facebook, Twitter, Pinterest or Google+. If you do get this geeky gadget for yourself or as a present for someone else, tell us how you liked it, that would be awesome! :)
Categories: $25 to $50, All, All Prices, Tech, Toys & Fun