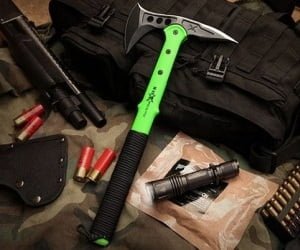 You need proper weapons for the zombie apocalypse and with this apocalypse tactical tomahawk you're always prepared to battle the undead. It's an awesome looking green combat tomahawk with a futuristic edge!
As we all geeks know, the apocalypse where the undead will try to rule the world and eat our brains is approaching. And you can't survive the zombie apocalypse without having some good and effective survival weapons and with this futuristic combat-style tomahawk in your arsenal, you'll be prepared to face any undead creature because having an arsenal of proper weapons that's suited to the situation which you can fight the zombies with is just as important to survive as gathering and storing items and to find other survivors with different useful skills in the aftermath.
This ultimate badass axe, which even the zombies don't want to face, has a mean, nuclear green color to give you a real zombie-fighting vibe during combat and it has sharp axe blade on one side and a sharp and pointed penetrating spike on the other side. It's just as good for striking zombie skulls as it is for throwing and you can of course use it as a regular camp axe when you're not fighting zombies.
We go around the web looking for new cool geeky items to surprise you. Today we've found Apocalypse Tactical Tomahawk and we think it's awesome. So go ahead and check it out, and leave your comments and share it with your friends on Facebook, Twitter, Pinterest or Google+. If you do get this geeky gadget for yourself or as a present for someone else, tell us how you liked it, that would be awesome! :)
Categories: $25 to $50, All, All Prices, Knives, Tools & Survival, Popular Product