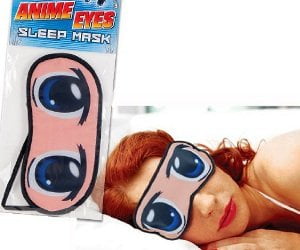 Sleep and still look animated with this light blocking sleep mask with anime eyes picture. If you ever wanted to look like an anime character this is your chance to do it while you sleep.
This practical and fun accessory will make you look playful and it's great for any anime fan. Get one for yourself or as a gift for someone who can appreciate it.
The mask blocks light well and is made of cotton with an elastic band. The big blue eyes painted on the front of the mask look like straight from anime and it really makes you look like a real anime character.
If you like anime, you will like this mask.
We go around the web looking for new cool geeky items to surprise you. Today we've found Anime Eyes Sleep Mask and we think it's awesome. So go ahead and check it out, and leave your comments and share it with your friends on Facebook, Twitter, Pinterest or Google+. If you do get this geeky gadget for yourself or as a present for someone else, tell us how you liked it, that would be awesome! :)
Categories: $1 to $25, All, All Prices, Wearables