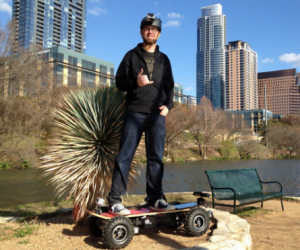 Skating with your feet is old fashioned and belongs to prehistoric times because in these days we have something called electricity. So why not take a motorized ride in any terrain with the All Terrain Electric Skateboard?!
You wake up to a beautiful sunny day and even if you're a geek who rather prefer to sit inside and assemble LEGO or crush some koopas on your NES, the weather is so nice that you actually want to take a trip outside to get yourself some vitamin D. Because even if you have 140 in IQ, you need some sunlight. But you don't want to use your feet to walk or do anything else that involves using your leg muscles! Because that belongs to prehistoric times and the same applies for using your feet to skate, but you want to stand on a skateboard so bad and feel the wind blowing through your greasy hair. So what do you do when you want to skate without using a single leg muscle? You use your motorized All Terrain Electric Skateboard that you control with a wireless handheld remote!
With this awesome toy, you can reach speeds up to 19 mph without using a single leg muscle thanks to it powerful 800-watt motor and it can be ridden on both flat and hilly terrain. Perfect if you want to impress some bikini ladies at the local beach on a sunny summer day.
We go around the web looking for new cool geeky items to surprise you. Today we've found All Terrain Electric Skateboard and we think it's awesome. So go ahead and check it out, and leave your comments and share it with your friends on Facebook, Twitter, Pinterest or Google+. If you do get this geeky gadget for yourself or as a present for someone else, tell us how you liked it, that would be awesome! :)
Categories: $500 & Above, All, All Prices, For Him, Toys & Fun