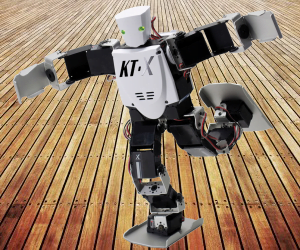 Have you always wanted to own your very own robot that performs the most incredible acrobatic tricks? Now you have the chance! This advanced acrobatic robot can perform up to 75 different moves on your command.
Wouldn't it be cool to have a robot that can perform the most incredible tricks and stunts such as backflips, somersaults and even amazing air guitar solos? Thanks to the future, you can now get one of these robots and impress your tech-loving friends as you command it to throw baseball, do some awesome martial art moves or give you a bottle of beer!
When the scientists invented this robot, they wanted make a robot that could satisfy a demanding geek's needs in the 21st Century. And they made it.
The remote controlled Advanced Acrobatic Robot has 17 servos, a gyro sensor and an accelerometer that controls all its movements while it gives your little humanoid both balance and stability.
If you want an expensive toy to impress your friends with, this is the 'thing'.
We go around the web looking for new cool geeky items to surprise you. Today we've found Advanced Acrobatic Robot and we think it's awesome. So go ahead and check it out, and leave your comments and share it with your friends on Facebook, Twitter, Pinterest or Google+. If you do get this geeky gadget for yourself or as a present for someone else, tell us how you liked it, that would be awesome! :)
Categories: $500 & Above, All, All Prices, Toys & Fun