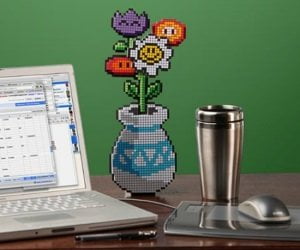 Surprise your princess with a lovely bouquet of 8-bit flowers. This 3D constructed bouquet of pixelated flowers is perfect for the big crush in your life who loves classic video games as much as you do.
Everybody knows that girls like to get surprised with a bouquet of flowers now and then, something that symbolizes how much the guy loves his beloved princess. And often he gets rewarded with both beer and steak when she receives such surprises. But if you are a couple where both, or just the girl (what?! Come on!) like classic video games with 8-bit graphics, we're pretty sure that this pixelated 8-bit flower bouquet will make her falling even more in love with you. Maybe she'll roast a whole pig as a reward for your efforts?
But if you don't have a girlfriend and happens to be a single Nintendo geek, you can fine buy some bouquets for yourself as well if you want to decorate your home with some flowers that never needs watering. Perfect if you want more time to play your favorite classic NES video game!
We go around the web looking for new cool geeky items to surprise you. Today we've found 8-bit Flower Bouquet and we think it's awesome. So go ahead and check it out, and leave your comments and share it with your friends on Facebook, Twitter, Pinterest or Google+. If you do get this geeky gadget for yourself or as a present for someone else, tell us how you liked it, that would be awesome! :)
Categories: $1 to $25, All, All Prices, For Her, Home & Kitchen, Popular Product