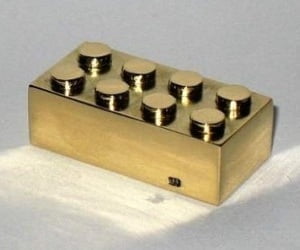 Your geeky LEGO friends will shit bricks if they see that you are in possession of this $14,500 LEGO brick that's made of 14k solid gold. It's the same LEGO bricks as filthy rich oil barons use to play with.
If Bill Gates or Warren Buffett happens to be your father, you should convince him to buy a few of these solid gold LEGO bricks which costs $14,500 each for you because it will make your geeky LEGO friends so jealous when they see that you play with real gold bricks as a super-spoiled rich man's son, while they have to play with their cheap plastic bricks!
But these golden bricks are of the same size and has the same shape as the original 2x4 LEGO bricks. So they are fully playable with all the other plastic LEGOs as well!
We go around the web looking for new cool geeky items to surprise you. Today we've found 14k Solid Gold LEGO Brick and we think it's awesome. So go ahead and check it out, and leave your comments and share it with your friends on Facebook, Twitter, Pinterest or Google+. If you do get this geeky gadget for yourself or as a present for someone else, tell us how you liked it, that would be awesome! :)
Categories: $500 & Above, All, All Prices, Toys & Fun